Accel‑Heal® Securing Patch (12 hour challenge)
Project            
Accel‑Heal® Securing Patch (12 hour challenge)
Context          
Design Sprint with
Accel-Heal
Awards          
Member of the team that placed 1st
Accel‑Heal
 is a medical device clinically proven to promote and stimulate healing in leg ulcers through the use of electroceutical energy. Our goal was to design a method of securing the device comfortably to the user. A complex and demanding task, which required a user centred approach.
'We saw this opportunity to create a solution that created a more considered user experience that placed the patient at the centre of focus'.
​​​​​​​
On the surface, the challenge was simple, design a solution to replace the existing method of securing the device to the patient; the existing method involves the device being secured beneath both a Conforming Bandage and a Crepe Bandage; this method requires the patient to the hospital in order for the dressing to be changed, causing both and inconvenience for the patient as well as being an inefficient use of healthcare recourses, in addition to the pain caused by the additional pressure around the ulcer. However, upon conversation with the client, a number of additional, arguably more significant, issues were identified: 
Infection Control-
Due to infection control, after use the devices are returned to the manufacture to be disposed of. Returning the devices is somewhat easier said than done; what to do with the lengthy wires and electrodes is open to interpretation, and leads to ineffective and, in some cases, dangerous packages. 
Feedback-
The device features an LED on its façade, providing the user with feedback of the user's operation status. Significantly, the existing method of securing the device to the patient obscures the LED, leading to user's being left-in-the-dark regarding whether their device is operating and causing feelings of doubt to creep in; this results in the user removing the bandages, which will then need to be re-applied by a professional. 

The solution comes in the form of an adhesive pouch, which effortlessly replaces the cumbersome bandages. This proposed method transfers the responsibility from the healthcare professionals back to the patient; this removes the need for the patient to visit the hospital on a bi-daily basis.  ​​​​​​​A Silicone Adhesive was chosen to be used for the backing, as it allows for the device to be comfortably readjusted throughout the day, whilst also being breathable. It also removed any unwanted pressure from the user's leg, leading to a more comfortable experience.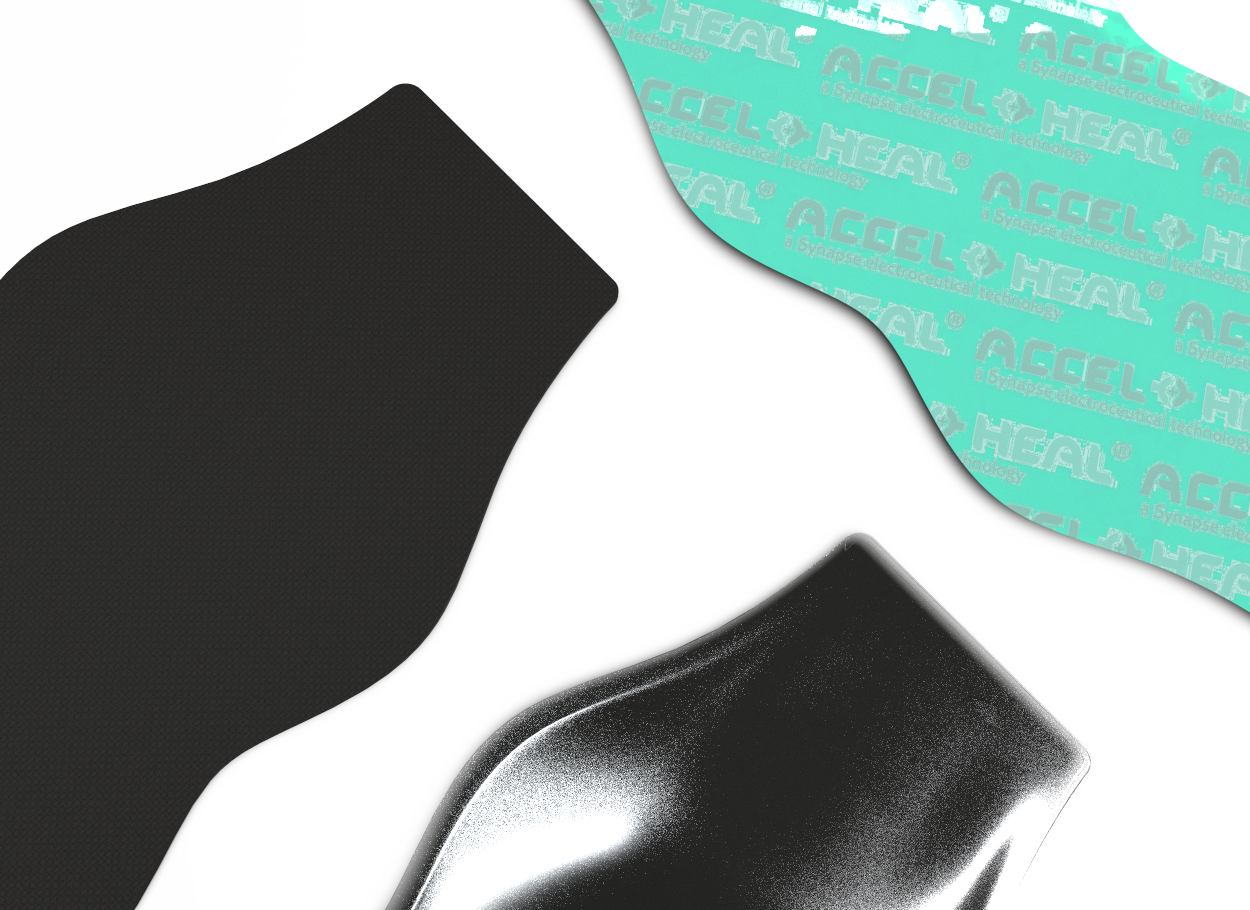 The Device's Life- 
In order to address the issues regarding infection control, the suggested solutions takes into account the product's life from the moment it is taken out of the packaging through the moment it arrives back at the manufacturing facility, awaiting disposal. After the 48-hr period of use, the patient simply wraps the wires around the main pill, sticks the electrode pads to the pouch, and then folds 'wings' over to secure the electrodes down. This process creates a compact and secure parcel that the patient can safely return to the manufacturer.